Today Brent was chuckling over a commercial and it involved the 49ers. "Was Joe Montana the quarterback the last time they won the Superbowl?"
"No, Steve Young."
"Oh. Well, surprisingly I didn't say Joe Namath. That's what I usually say. And you usually correct me."
He offered no response to my obvious ability to learn about a subject I have not interest in. He continued to try and focus on the television and the obviously riveting football game.
Gentle Reader, I have no idea who Joe Namath actually is. Oh, I know he has something to do with football. But what he looks like, who he played for and when is beyond me. Yes, I could Google it, but WHY? I simply don't care. The only reason I know anything about Joe MONTANA is because he QB'd when I was in high school. And I felt pressure to actually understand and CARE about sports then. And the 49ers had a red team. So, therefore I cheered for them. Even if I was
the worst cheerleader in the WORLD.
Sorry about the bunny chase. We were discussing a discussion I had with Brent. Who was NOT participating in said discussion (kind of like the discussion we are having now, no?) "Don't worry though. I know who I mean. After all, I can still picture him in his Hanes underwear."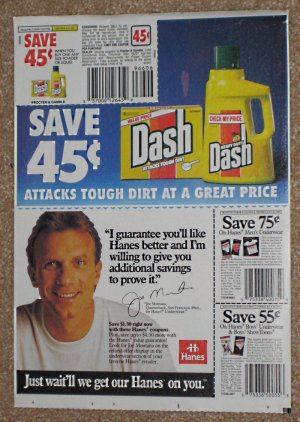 And I found the photo here. Amazing that someone is selling an underwear ad with coupons, eh?
And he did indeed turn his head to focus on me. Long enough to widen his eyes in frustration to see my coffee resting precariously on the arm of the couch.
Confession:
When I decided to share this pointless conversation with you, I had to ask Brent, "Hey, when I was asking you about the Joe Montana Superbowl thing, did you say the name of their last quarterback to win it was Eli Young?"
And he looked at me silently for a moment. Then he said "Steve Young." And then he wondered aloud why that conversation would trigger a blog.
We saw the new Bond movie this weekend. It was great fun. And quite possibly my favorite Bond ever. Which isn't saying much as I have only liked the Bonds with Daniel Craig. He's just so rough looking. He looks like he has lived a hard life and ran a thousand miles, and his eyes are bloodshot and he does the emotional devastation that is never seen in other Bond movies...And then he truly does the very best cuff link check of any Bond. Seriously, he jumps through the demolished roof of a moving train comes to his feet and adjusts his cuff links as he somehow ruthlessly continues pursuit of his query...I tried to find a good still of it, but it required more fortitude than this blogger has.
Gentle Reader, while I do so LOVE Daniel Craig as Bond, his lack of restraint with regards to amorous activities is rather disappointing. In the words of my 12 year old, he is such a "tulsa. Spell it backwards, Mom." Which I mentally did. Then I cringed inside. And then I withered some more when she said, "By the way, what exactly
IS
a slut?"
Speaking of amorous activities: I have a new obsession. Actually an old obsession revisited. The other day at the library I saw a Julia Quinn Bridgerton novel,
The Viscount Who Loved Me.
I had read it before, but decided I could use a smile, so I checked it out. And now I find myself scrambling to find all eight of the Bridgerton series, because they are just too funny and too endearing. It is a series about eight siblings, alphabetically named growing up in Regency England. They are fun, and they are light. And there is not a disgusting amount of amorous activities going on. And what is there can easily be skimmed over.
Anyhoo
, as I've read all of these books before I'm kicking myself for my tendency to trade books in after reading them. That has been the number one thing about my Nook. I can't just carry a book to The Book Rack and trade it in for another book. I actually have to keep the book. Although I do miss the carry in the old paper sack of books and browsing through the shelves with their distinct smell of old books.
Well, that's all I've got for today. Now I'm off to teach a group of
ungrateful wretches
their Christmas music!
Have a lovely day, Gentle Reader!